Is Online Blackjack in Pennsylvania Legal?
Online casino games in the state became legal in December 0f 2017 when the Pennsylvania Gaming Control Board (PGCB) passed House Bill 271. This bill covered online poker and other popular table games such as blackjack games and roulette games, opening the door for online casinos to feature them as part of their offerings. The Pennsylvania Gaming Control Board is responsible for monitoring these online table games, including live dealer blackjack games, to ensure the integrity of legalized gambling through the strict enforcement of laws and regulations. However, online blackjack games did not officially launch until July of 2019, with five Pennsylvania online casinos featuring them by the end of the year. That has since grown to 13.
Demo Games Online Blackjack
Playing online blackjack is one of the best ways to learn this and other casino games. Online casino platforms make it very simple to play online blackjack and other table games, and the easiest way to start is to play for free on the demo games. At PA casinos, free online blackjack makes it possible for you to get familiar with other blackjack titles so that you can be ready for real money games.
How to Play Blackjack Online in PA
If you want to play at legal online blackjack sites in Pennsylvania, you need to know where to go and what to do in order to make that happen. For example, what PA online casino sites are the most recommended for blackjack online? While PA online casinos are licensed and monitored by the Pennsylvania Gaming Control Board, make sure to do your due diligence and avoid playing at an offshore site by mistake.
Here are steps you should take to play blackjack online at regulated online casinos:
1️⃣ Do your research on Pennsylvania online casinos - read our reviews.
2️⃣ Determine which online blackjack casinos are best for you.
3️⃣ Make deposits at the legal online casinos of your choice.
4️⃣ Take advantage of any bonus code opportunities that suit you.
5️⃣ Play blackjack titles that you enjoy like natural blackjack or live dealer games.
Blackjack Rules
Whether you are playing virtual blackjack online or live dealer blackjack games, the rules at PA online casinos are similar across the board when compared to in-person Atlantic City blackjack at brick and mortar casinos such as the Borgata Casino or the Hollywood Casino in Pennsylvania.
The basic premise of playing blackjack is to beat the dealer by getting as close to 21 (the number for blackjack) without busting (or going over that number) after drawing a series of cards. For example, if the dealer draws two cards for each of you to start a blackjack game, and you have an 8 and a 9 for 17, the dealer would need to total anywhere between 18 to 21 to beat you.
If the dealer draws 16 or less in a blackjack online casino game, another card must be drawn, risking the chance to go over 21. You could also decide to hit on 17 (drawing another card) in a blackjack game for a better shot at finishing closer to or landing on 21, but with the risk of busting.
Numbered non-face cards from 2 to 10 are worth that many while a face card (jack, queen or king) is worth 10 as well and an ace is worth 1 or 11.
Drawing a face card or 10 and an ace gives you a natural blackjack, and the dealer must do the same to push or tie. If you are lucky enough to land on 21 naturally, the payout for PA blackjack is 3-to-2 or 1.5 times the amount wagered.
The same blackjack rules apply for most blackjack variants, although some in other states can require the dealer to hit on a "soft 17" which includes an ace counting as 11. An example of a soft 17 would be an ace (11) and 6, but that is not the case with PA blackjack, where the state rules require the dealer to always stand on a soft 17.
Other key features of PA blackjack include the opportunity to "surrender" or give up half the amount wagered after seeing your first two cards and the dealer's first card. You can also split up to three hands if you are dealt identical cards initially and even double down on your wagers after splitting. Keep in mind, these rules are specific to all PA online blackjack casinos across the state.
Online Blackjack Games vs In Person Blackjack Tables
Playing a blackjack game online certainly has advantages versus in-person blackjack tables at casinos in Pennsylvania like the Harrahs Casino. Online casino blackjack games allow players to participate virtually wherever they want, whether it be in the comforts of their own home or another destination of their choice.
When you play online casino blackjack, you should do so in an environment that helps give you the biggest edge, which is one reason why online blackjack sites are often better than having you play casino games at brick-and-mortar casinos. Most casino games, especially table games such as blackjack, help minimize distractions when playing at an online casino.
Pros and Cons of Online Blackjack
Advantages
Comfortable surroundings, playing blackjack games wherever you want
Better bonus money opportunities at online casino to play blackjack
Best online blackjack sites give you the chance to earn more rewards
Low house edge with 3/2 blackjack payout at Pennsylvania's online casinos
PA online casinos may offer more blackjack variations than blackjack tables
Disadvantages
Live dealer may or may not be available - although there are infinite player tables available
Interaction with other players may be limited
PA Online Casino Bonuses for Blackjack
Believe it or not, visiting a PA online casino can give you the chance to use bonus money to play blackjack or other table games like video poker games. Not only is there a possibility for a low house edge at some online casinos in Pennsylvania such as Borgata Casino, but you can also earn a bonus code that can be used to play blackjack online. Because of this, online gambling at PA blackjack sites is very appealing. That is also why PA online blackjack games are growing in popularity.
Odds to Win Online Blackjack
The best online blackjack sites will provide a low house edge, and this is especially true with blackjack in Pennsylvania. The Pennsylvania Gaming Control Board set forth consistent rules for blackjack sites within the state as you have read about earlier. This means that all PA online casinos offer the same rules and odds. However, the house edge may differ depending on how many decks of cards are used, which is extremely important to understand if you are playing at blackjack sites. The lower the number of decks used, the lower the house edge as listed below.
Pro Tips for Online Blackjack
If you are going to play PA online blackjack, there are a number of things you should know obviously which have already been mentioned previously. But if you are going to succeed at playing PA online blackjack, then there are some pro tips you should follow in hopes of winning real money.
The most important pro tips involve knowing when you should hit or stand, when to split, when to double down, and when to surrender. All of these pro tips depend on what two cards you are dealt combined with what the dealer is showing against you. If you are going to win at blackjack sites at a Pennsylvania online casino, here are four top pro tips to follow:
1️⃣ Hit on anything less than 16 and stand on anything 17 or higher.
2️⃣ Split when dealt a pair of the same cards.
2️⃣ Double down when you have a 10, face card or ace.
4️⃣ Surrender with a 15 or 16 if the dealer shows a 9, 10, face card or ace on first card.
Popular Side Plays in Online Blackjack
When you decide to play blackjack games at casinos in Pennsylvania online, there are additional side bet options to choose from after you get started that can make the game more fun. This is actually the case if you either play online or participate in real money games at brick and mortar casinos.
Regardless of whether or not you play at an online casino site, the most popular side plays include perfect pairs, 21+3, royal match, super sevens, lucky ladies, over/under 13 and insurance. New online gaming technology makes it easier than ever to play blackjack though an online casino, and that definitely helps increase the number of side play offerings.
Online Blackjack Variants
Another positive of playing at an online casino is that there can be many more blackjack variants to pick from compared to brick and mortar casinos in PA. If you play online, one particular option in addition to real money games is demo mode blackjack, allowing you to hone your skills on your own before competing against other players in a more competitive space. While brick and mortar casinos may be limited to Spanish 21, online casinos can also offer Double Exposure Blackjack, Blackjack Surrender, Blackjack Switch and Multi-Action 21 to name a few other variants.
Blackjack in Person Near You
Here are some brick-and-mortar casinos in PA that offer playing blackjack games:
Hollywood Casino at Penn National Race Course, Morgantown and The Meadows
Valley Forge Casino Resort
BetRivers Casino Philadelphia
Harrah's Philadelphia Casino & Racetrack
Mohegan Pennsylvania
Parx Casino
Betway Live! Casino Pittsburgh
Mount Airy Casino Resort
Find Your Nearest PA Casino
PA Online Blackjack FAQ
The minimum age to play in casino games at a legal online casino in Pennsylvania is 21, the same age to play in a PA land-based casino. Operators will verify your age by asking you to provide personal details when you sign up.
Choose a PA online casino that offers blackjack that you wish to sign up with. Go to the online casino's website or download the app. Click on "register" or "sign up." You will be asked to provide some personal details. Once your identity is verified, you'll be ready to make a deposit and play.
PA online casino offers several deposit options to fund your account. The list includes, but is not limited to, credit/debit cards; Play+; prepaid cards; bank transfer; wire transfer; e-wallets such as PayPal, Neteller or Skrill; PayNearMe; or cash at the casino cage of the land-based facility affiliated with your online casino.
You can request a withdrawal at any time. Simply click on the "withdrawal" button and follow the prompts. It's generally best (and often required) to withdraw with the same method you used to make a deposit. The processing time will vary according to operator.
Because offshore casino sites are unregulated, withdrawals can be unreliable and bettors may potentially lose their funds. If this happens, you'll have no recourse. On the other hand, legal online casinos in PA are licensed by the Pennsylvania Gaming Control Board, ensuring your accounts are secure.
Author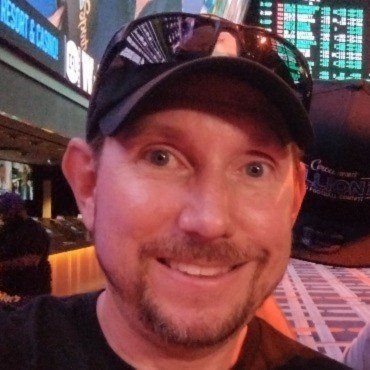 Matty Simo is a Las Vegas-based writer who has resided there for more than 20 years and covered sports since the age of 16 in suburban Chicago. "Vegas Matty" (as he is known in Sin City) has been involved in the sports gambling scene since graduating from Syracuse University, writing betting articles and helping grow Vegas football contests through his popular proxy service. He is an avid fan of the Vegas Golden Knights, Las Vegas Raiders and Las Vegas Aces, adopting them as his favorite teams upon their arrival.